Maggie says: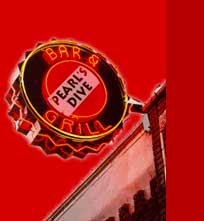 Recently is was noted that some people find the ladies of m-pyre to be "mysterious." And I just discovered that M3 's favorite watering hole has a website. Enter Pearl's Dive, simply the best bar in Albuquerque if you're anything like the three of us, which means you like to drink, talk, eat good food, and hang out with great friends close to home.

And not to completely spoil our mysterious appeal, but M3 spends a lot of time at Pearl's. Like, ahem, the last two nights in a row. And our favorite waiter is curly-haired Ian, who made up an M3 gang sign for us and puts up with Mikaela's outrageous demands for specific glassware. Marjorie drinks wine, I drink Bass, and Mikaela drinks cider. And we love black bean dip and the portabello quesadillas.

So now that you don't have to sit around wondering about the mysteries of m-pyre, get yourselves over to Pearl's with your free time, local readers. Good drinks, great food, a kick-ass back patio perfect for summer nights, and good conversation await you.